Glass, quartz & ceramics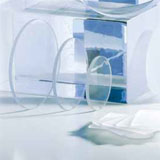 Borosilicate glass substrates
Borosilicate glass, known under trade names such as Pyrex® and Duran®, is widely used in chemical and engineering applications.
This glass is chemically resistant, has a low thermal expansion coefficient and can be used at relatively high temperatures.
Our high quality borosilicate glass substrates are optically polished on both surfaces. The excellent flatness, a low warp of our borosilicate wafers and the thermal coefficient of expansion close to the one of Silicon, facilitate sophisticated applications in the semiconductor industry such as anodic bonding to Silicon and various micro optical applications.
On request, our Borosilicate glass wafers can be made with a ground SEMI standard flat or a notch.
Our customized products
Quartz substrates (Silica)
Quartz glass is an extremely versatile material used in a range of different applications. It has outstanding thermal properties, excellent optical transmission, with good electrical and corrosion performances.
Neyco offers both synthetic Silica and natural Silica.
Our customized products
Alumina Al2O3 substrates
Pure Alumina ceramics, due to their high insulation resistance at elevated temperatures, their dielectric specifications, is one of the best dielectric materials available for use in applications requiring electrical insulation.
The mechanical strength of pure Alumina ceramics may be extremely high if properly controlled by the size and homogeneity of the constituent crystallites. It is recommended to use ceramics in compression because compressive strength is nearly 10 times that of the flexural strength. This may be achieved through design or by the establishment of operating conditions.
Thermal and chemical properties of pure Alumina ceramics are always of great interest. Thermal conductivity is nearly equivalent to Stainless Steel. Pure Alumina ceramics is inert to oxidation, not corroded by chemical agents and not subjected to radiation damage.
Specifications of Alumina provided by Neyco :
purity: 99.6%
1 ou 2 polished sides: 1 µinch
non polished side: 10 µinch
Our customized products
NEYCO
30 avenue de la Paix
92170 VANVES
Tel:+33(0)1 41 90 50 50
Fax:+33(0)1 41 90 50 51
e-mail: contact[@]neyco.fr