Silicon wafers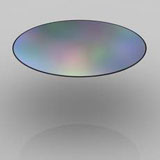 Silicon wafers are cut from Silicon single crystal using internal diameter diamond discs. They are used for production of silicon substrates and membranes.
The below mentioned parameters are dealing with our standard products.
On the customer's request we are ready to discuss orders for wafers with some other parameters. All of our silicon wafers are delivered with certificate of analysis.
Direct link to the wafers tweezers page : tweezers
Our Silicon wafers
Main specifications for our wafers in stock:
Orientation : <100>
Growth method : CZ and FZ
Resistivity: from 0.001 to > 20 000 Ω.cm
With flats
Packaging : 25 pieces/box
We can offer wafers with some other parameters. Please fill in the table "Our customized products", with your specifications.
Stock products
Our customized products
Thermal oxidation
We offer a service of thermal oxidation (by dry or wet way) on our wafers (or on your wafers). The oxidation thickness can be from 50 nm to 5 µm. The oxidation on one side is also possible.
Our customized products
Silicon nitride Si3N4 layers
We offer a service of silicon nitride Si3N4 (classical at 800°C or low stress at 835°C) of our wafers (or your wafers).
Thickness: from 50 nm to 1 µm.
Our customized products
Vacuum coatings on wafers and silicon substrates
We offer special vacuum coatings (Ag, Al, Au, Cu, Pt, ...) on wafers by PVD (sputtering or vacuum evaporation). We can deposit a precoating layer (Cr or Ti) if necessary.
We can also offer multi-layers deposition.
Our customized products
Dicing of wafers and substrates silicon
We offer the dicing of the wafers in square or rectangular parts.
Examples:
10 mm x 10 mm
5 mm x 5 mm
5 mm x 10 mm, ...
If you want an offer, or for more information about this product: Contact us
Single Silicon wafer and susbstrate container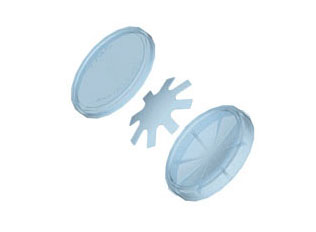 Single Silicon wafer carrier, or for other delicate flat substrates, from 1" to 6".
Material : natural PP
Couleur : Transparent
Packaging :
1 pce
per 25 clean room bagged
NEYCO
30 avenue de la Paix
92170 VANVES
Tel:+33(0)1 41 90 50 50
Fax:+33(0)1 41 90 50 51
e-mail: contact[@]neyco.fr