Polyimide & Mylar
Polyimide Silicone tape - Kapton type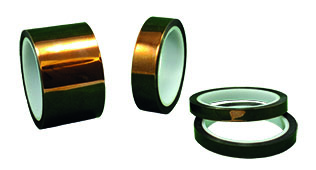 K6338 is a polyimide film coated with a silicone adhesive. It is usually used for secondary vacuum applications.
K6338 is an all purpose high temperature resisting tape.
It is also used as a mask in the wave solder and reflow process.
Polyester film is the most frequently used material for masking during the thin film coating and paint spraying processes. Polyimide film can be used where a high temperature mask is called for.
Technical features:
Vacuum compatibility: 10-7 mbar
Dielectric strength : 5.0 kV
Tensile Strength (25 mm) : ≥ 115 N
Operating temperature range: - 40°C to +180°C
Short-term temperature range (< 1 hour) : up to +260°C
Elongation at Break : ≥ 55 %
Adhesion to steel (25mm) : ≥ 2.2 N
Film thickness : 0.025 ± 0.005 mm
Total thickness : 0.060 ± 0.005 mm
Inventory condition : 23 ℃, 65 % RH
Inventory available time: 1 year
Colour: amber
Dimensions:
Rolls are 33 m long.
Width (customized) : 3-500 mm (±0.2 mm)
Product advantages
Excellent thermal and electrical properties
Good mechanical strength and properties
Resistant to chemicals
Flexible and light
Other dimensions are available.
Non adhesive Kapton tapes and foils are also available on request.
Mylar® polyester film and tape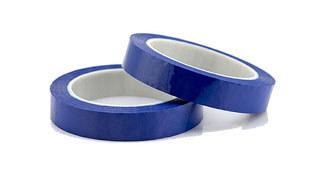 Mylar® polyester films are flexible, exceptionally strong and durable translucent and clear films produced by DuPont. They have a high tensile, tear and impact strength. They remain tough and flexible at temperatures from -70°c to +150°c.
Mylar® is very versatile and can be supplied in sheets, reels and die cut to customer drawings/specifications.
Technical specifications:
Material: polyester film coated with acrylic adhesive
Colorful tape: Red/White/Black/Yellow/Green/Blue etc..
Adhesion to steel: 3.8 N/10 mm
Voltage resistance: 6.2 kV
Typical dimensions:
Film thickness: 0.025 mm / 0.016 mm / 0.05 mm
Thickness: 0.06 mm / 0.04 mm / 0.08 mm
Width: 10 mm / 20 mm / 50 mm or customised width
Length: 33 m or 66 m standard or customised length
Jumbo roll size: 1265 mm x 3000 m
Product advantages:
Excellent electrical insulation performance
Excellent barrier again moisture and gas, notably oxygen
Heat resistance
Corrosion resistance
No glue residue
Fire proof
Strong tensile strength
Specific engineering functions:
An electrical barrier in motors, transformers, capacitors and a host of uses in electronic and aerospace equipment.
A thermal and electrical barrier in wire and cables.
A substrate for coating or laminating of food and medical packaging
A mechanical interface in membrane switches.
If you want an offer, or for more information about this product: Contact us
NEYCO
30 avenue de la Paix
92170 VANVES
Tel:+33(0)1 41 90 50 50
Fax:+33(0)1 41 90 50 51
e-mail: contact[@]neyco.fr