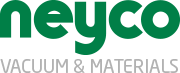 Sylgard 184 silicone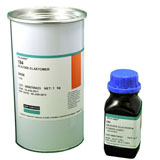 Sylgard 184 is a DOW CORNING silicone encapsulant, used in electronic applications.
PDMS provide unparalleled protection for electronic modules and devices ranging from relatively simple to highly complex architectures and geometries. Silicones function as durable dielectric insulation, as barriers against environmental contaminants, and as stress-relieving shock and vibration absorbers over a wide temperature and humidity range.
Sylgard184 is a polymer also widely used for the fabrication and prototyping of microfluidic chips.
In addition to sustaining their physical and electrical properties over a broad range of operating conditions, silicones are resistant to ozone and ultraviolet degradation and have good chemical stability.
Some specifications:
color: clear
dynamic viscosity: 3.85 Pa.s
durometer: 43 shore A
Sylgard 184 is supplied as two-part liquid component kits, to be mixed.
To download Safety Data Sheet, please click here : SDS-Sylgard-184
NEYCO
30 avenue de la Paix
92170 VANVES
Tel:+33(0)1 41 90 50 50
Fax:+33(0)1 41 90 50 51
e-mail: contact[@]neyco.fr