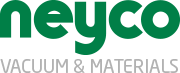 E-Guns
HC Series, Hight capacity evaporation sources
The HCF series e-Gun™ evaporation source delivers results in demanding production coating applications. The large crucible volume permits long, uninterrupted evaporation runs.
Available in single, linear, rotary and rod-fed models.

We can adapt the E-guns according to your specification as you can see on the crucible illustration top view below.
Other mounting flanges, configurations and geometries are routinely supplied, please call or contact us for further information.
RC Series, Research capacity electron beam evaporation sources
Research capacity series, 3kW single and multiple-crucible linear e-Guns provide enhanced beam stability and efficient XY sweep with full crucible coverage. Plug-in emitter and sweep coil assemblies make the e-Gun source easier to service. This series includes a full spectrum of power supplies, sweep controllers and accessories, including curcible liners.
NEYCO
30 avenue de la Paix
92170 VANVES
Tel:+33(0)1 41 90 50 50
Fax:+33(0)1 41 90 50 51
e-mail: contact[@]neyco.fr