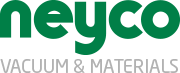 UHV Gate valves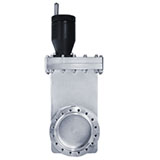 We offer gate valves designed for high vacuum applications from DN16 to 500. These valves provide valving for cryopumps, turbo pumps, ion pumps and other applications requiring clean, low outgassing valves.
Our gate valves are available:
for HV or UHV series
in Stainless Steel or Aluminum
manual (M) or pneumatic (P) version
Stainless Steel Valves
The Stainless Steel gate valves are used for pressure 10-9 mbar (HV serie) / 10-10 mbar (UHV serie).
Materials :
gate and bonnet : SS 304
bonnet seal : Viton (V) (HV) / Copper (C) (UHV)
gate seal : Viton (HV) / Viton (UHV)
Pneumatical valves are supplied with Position Indicator.
The dimensions are available in our documentation below.
Specifications

Leak rate (He)
< 2.10-9 mbar.l/s
Bakeout temperature
150°C (HV)
200°C (UHV), valve open
150°C (UHV), valve closed
Cycles until service

100 000 cycles

Voltage solenoid (pneumatical version)

24 / 120 / 200 / 240 V AC, 50/60 Hz

12 / 24 V DC
CF flanges
from DN 16 to DN 300.
NEYCO
30 avenue de la Paix
92170 VANVES
Tel:+33(0)1 41 90 50 50
Fax:+33(0)1 41 90 50 51
e-mail: contact[@]neyco.fr