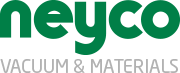 Deposition systems
MAGEVA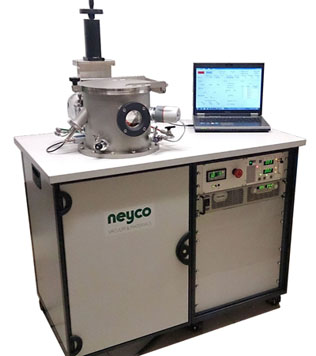 The MAGEVA thin film deposition system is a flexible tool, which operates, ALL IN ONE, either in thermal evaporation (150 A) or sputter deposition with a magnetron (up to diameter 4''). The user can switch the process in less than 10 min.
Compact, for better utilization of clean room and laboratory space, the frame is equipped with wheels for quick and effortless transportation.
The stainless steel chamber, fitted with turbo and rotary pumps, allows MAGEVA to pump down very quickly to high vacuum (10-6 mbar range). Fxation of substrates is very easy, due to the substrate holder design.
MAGEVA is provided with the following standard equipment :
1 turbo pump + 1 rotary pump, automatically controlled
1 Pirani/Penning gauge
1 gate valve (for regulation)
1 quartz crystal sensor with a Q-pod (thickness measurement)
1 magnetron
1 evaporation source on flange
2 DC power supplies
MAGEVA, designed and made in France, carries the CE conformity marking.
NEYCO
30 avenue de la Paix
92170 VANVES
Tel:+33(0)1 41 90 50 50
Fax:+33(0)1 41 90 50 51
e-mail: contact[@]neyco.fr