Vacuum chambers
Information guide
Neyco can assist you in your vacuum chamber (vacuum chamber) manufacturing projects. Our factories are equipped to manufacture complete systems for your applications requiring vacuum or ultra-high vacuum.
Materials: 304L or 316L stainless steel, Mu-metal (µ-metal).
From the Design Office to Quality Control, discover our know-how:
Design office :
Our design office is able to work from :
Your own plans
Your specifications
Simple technical drawings or diagrams
In all cases, Neyco provides you with a plan for approval before launching into production. Our sales and technical teams are available at all times to discuss your requirements.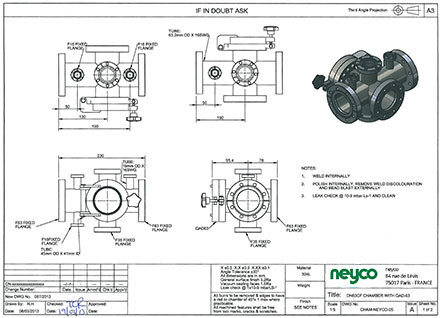 Production capacity :
Chamber Ø: up to 2 m
TIG welds according to UHV standard
Surface finish: general = Ra 3.2 / joint spans = Ra 1.6 to 0.8
External finish: bead blasting, electropolishing, mechanical polishing
Tightness control by Helium test: <1.10-10 mbar.l.s-1
Cleaning and baking of vacuum chambers :
For small Ø: automatic cleaning system (you can refer to the video above at 2"09-2"18).
For larger Ø: cleaning by hot steam jet, rinsing, steaming (atmospheric pressure).
On request :
secondary vacuum drying can be carried out (up to 380°C), with RGA.
delivery of chambers with closing flanges after vacuum drying.
Our UHV cleaning procedure will allow you to use our vacuum chambers and components with any KF, ISO and CF flange upon receipt.
Quality control:
All our chambers are inspected and tested during and after the manufacturing process. We are able to provide you with the following upon request at the time of order
Material certificate EN 10204-3.1
Dimensional inspection report
Helium test certificate
Registration of residual gas analysis (RGA)
Show more
Show less