Vacuum greases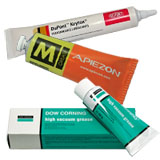 It exists a few kinds of greases used for vacuum applications:
Silicone greases (the most employed)
PFPE & fluoroether greases
Apiezon greases
Dow Corning High Vacuum Grease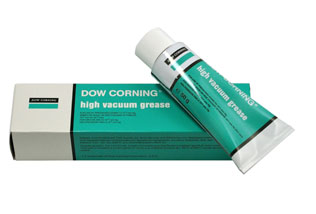 The silicone High Vacuum Grease is sealant which is ideally suited for all high vacuum applications. The grease is of uniform, soft consistency and can be used over a wide range of temperatures. Important features of this high vacuum grease include good sealing ability, excellent resistance to water, chemicals, high and low temperatures, and low volatility. This grease can be used in applications operating down to 10-8 mbar.
PFPE High Vacuum Greases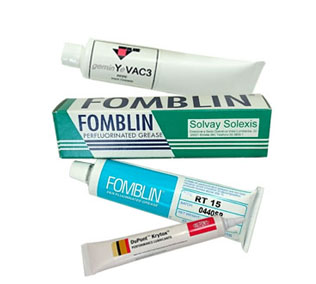 Inert High Vacuum Grease is a combination of an extremely low vapor pressure perfluoroalkylpolyether oil and a fluorocarbon resin thickener. These homogenous, white, buttery greases are designed for use in high vacuum environments operative where exposure to corrosive gases is probable. Inert High Vacuum Grease is not degraded or dissolved by most solvents, acids, bases, or other highly reactive chemicals, and can be cleaned from surfaces by dissolving the oil portion with solvent.
GeminYe YVAC3 : suitable for use as a lubricant of mechanical parts operating at high vacuum and in contact with aggressive chemicals or oxygen. YVAC 3 is used in lubricating "for life" applications; its lubricating properties make it suitable for parts for long periods of time, and at very high operating temperatures (from -20°C to 200°C) and is used in the manufacturing, aeronautical, and electromechanical industries.
RT 15 : suitable for lubricating mechanical parts requiring boundary (extreme pressure) lubricating properties. Shell four ball EP test show that RT 15's welding point is 800 kg. Its operation temperature range is from -20°C to 200°C. Its properties make it suitable in lubrication "for life" applications.
Krytox LVP : used as a sealant or lubricant in vacuum systems. Chemically inert and offering superior lubrication properties, Krytox LVP grease combines the extremely low vapor pressure of Krytox fluorinated oil, which is based on the most stable type of perfluoroalkylpolyether available, with a fluorocarbon thickener. Thus, Krytox LVP grease will not explode, ignite, decompose, react to form gummy or solid deposits, or act as fuel for fires. It retains its lubricating ability at temperature extremes ranging from –15 to 300°C and offers complete oxidation resistance. All these features add up to lower wear and longer life for equipment and components -so important when access for component repair or replacement is difficult or impossible.
BRAYCOTE Greases
The Braycote line of high vacuum greases has been developed to cover a wide range of temperature and chemical environments. The Braycote greases are perhaps best known for their high chemical inertness which derives from their basically completely fluorinated chemistry, both in terms of the "base liquid", which is very similar to a diffusion pump fluid, and the solids phase, which is a micro-colloid of tiny polytetrafluoroethylene (PTFE) "dispersion" particles.
Braycote 600EF : This grease is designed to operate in the presence of fuels, oxidizers, and in applications of deep space vacuum. It is used in gears, ball and roller bearings, electrical contacts, and O-rings. This grease is highly recommended for applications where temperature extremes and/or low vacuums are routine, such as cryogenic coolers, laser optical systems, or hostile chemical environments. Perfluorinated greases, such as Castrol Braycote® 600 EF exhibit excellent shelf life due to their intrinsic inertness.
Castrol Braycote 296 : This greases is smooth off-white colored perfluoropolyether greases in NLGI grades 0, 1, and 2 respectively. Each Castrol Microcote product uses a proprietary base fluid thickened with a special polytetrafluoroethyelene (PTFE) gelling agent with an average particle size of 0.8 μm. This product is specially formulated to provide wear protection in most load and speed conditions under high or extreme vacuum conditions. This product offers excellent lubricity, thermal stability, low volatility, good shear stability, low acute toxicity, and contains no Sodium or other alkali metal containing ingredients. This grease is nonflammable and chemically inert.
APIEZON Greases
All stopcocks and moveable joints in a vacuum system must be satisfactorily lubricated while remaining leak proof. The ideal lubricant for this purpose would have a low vapor pressure and be stable, chemically inert, nontoxic, and easily applied/removed. APIEZON greases have these qualities.
A wide range of greases are available for various applications : Apiezon AP100, Apiezon AP101, Apiezon H, L, M, T & N.
APIEZON waxes and sealing compounds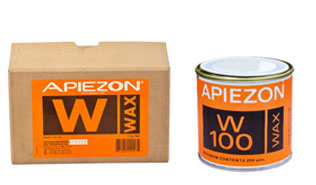 APIEZON waxes (WAX W, WAX W100, WAX W40) and sealing compound Q are designed for sealing joints of a permanent nature.
Three grades of wax are available, all similar, but with differing degrees of hardness and softening points. Wax W is used in most applications, but a softer wax is used where it would simplify application or where there may be vibration problems.
NEYCO
30 avenue de la Paix
92170 VANVES
Tel:+33(0)1 41 90 50 50
Fax:+33(0)1 41 90 50 51
e-mail: contact[@]neyco.fr