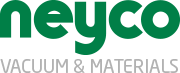 Welded bellows
Our bellows

Edge welded bellows, or diaphragm welded bellows, are flexible connecting elements between vacuum flanges or end fittings of any kind. A video you can find below presents assembly between two UHV chambers.
One-off manufacture upon customer request, cleaning and leak test as UHV procedure, cleanroom packaging.
Welded bellows are available in KF, ISO and CF flanges, or end fittings according to the customer's drawing.
Applications
Vibration isolation
Actuator
Volume compensator
Expansion joint
Characteristics
Material: SS 316L, SS AM350, ...
Servide temperature: -250/450°C (316L), -250/300°C (AM350)
Leak rate: <1.10-10 mbar.l/s
To help you about an inquiry, please download our pdf inquiries template here : Fiche_renseignement_WB
If you want an offer, or for more information about this product: Contact us
NEYCO
30 avenue de la Paix
92170 VANVES
Tel:+33(0)1 41 90 50 50
Fax:+33(0)1 41 90 50 51
e-mail: contact[@]neyco.fr