NYE greases
For more than 50 years, NYE has been working with NASA and leaders in the commercial aerospace industry, qualifying lubricants for mission critical components while addressing problems like outgassing, contamination, and starvation. Outgassing reduces the effectiveness of a lubricant and can contaminate nearby components.
We offer a complete line of NYE lubricants for Vacuum, Semiconductor and Cleanroom Solutions.
Uniflor 8322

Uniflor 8322 is a PTFE thickened, heavy viscosity, completely fluorinated grease intended for applications where plastic and elastomer compatibility and resistance to aggressive chemicals are required.
NyeTorr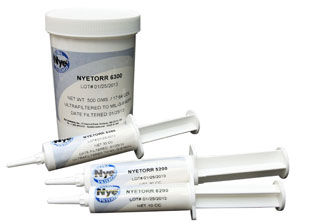 These products have been developed with several key parameters in mind: Low Outgassing, High temperature Stability, Aggressive Chemical Resistance, Wear Protection, and Cleanliness.
NyeTorr comes with custom formulation services. If a standard NyeTorr lubricant does not optimize the performance of your device, Nye engineers will work with you to customize a vacuum lubricant that meets your needs.
NyeClean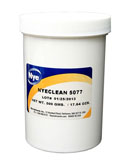 The NyeClean 5077 has been developed with its focus on a wide range of general purpose applications in lower vacuum cleanroom environments. With this product, you will find a lubricant developed for motion control applications like bearings, linear guides, and ball screws.
Some of the benefits of the NyeClean product line include low particle generation, wear prevention and low torque.
NEYCO
30 avenue de la Paix
92170 VANVES
Tel:+33(0)1 41 90 50 50
Fax:+33(0)1 41 90 50 51
e-mail: contact[@]neyco.fr