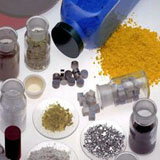 Powders & pellets for evaporation
Neyco provides evaporation materials for PVD applications (Physical Vapor Deposition).
Inorganic materials from Aluminum to Zirconium metals, including borides, carbides, nitrides, oxides, sulfides, tellurides …
Purity from 2N to 5N+ and granulometry from nanopowders to a few mm.
All lots delivered with specific certificate of analysis.
The materials are checked before shipping with a X-fluorescence analyzer. Certificate on request.
NEYCO
30 avenue de la Paix
92170 VANVES
Tel:+33(0)1 41 90 50 50
Fax:+33(0)1 41 90 50 51
e-mail: contact[@]neyco.fr