CF Seals
Information guide
Material : OFHC Copper (Oxygen Free High Conductivity).
All measurements are in millimetres.
Principle :
OFHC copper metal gaskets are used in ultra-high vacuum and/or in installations requiring high (bakeout) or low (cryogenic) temperatures. These flat-shaped deoxygenated copper gaskets can be baked up to 450°C, and withstand cryogenics (-269°C, 4K).
The 2 knife edges on either side of the flanges will penetrate the copper gasket, which will allow the deformation og the gasket to achieve the sealing : this is called the Conflat type assembly (CF, see figures below).
After using a CF copper gasket, the gasket will have a furrow in it, as a result of being crushed by the flange knife. Therefore, it is impossible to replace the Cu gasket identically because a new tightening would lead to the appearance of a second furrow, causing a leak. It is therefore no longer possible to reach low pressures (ultra-high vacuum, 10-7 mbar) :
This is why this type of seal cannot be reused.
Precautions : great care must be taken to avoid scratches and stripes that could be caused by knocks on the edges of the CF flanges or by an unfortunate dismantling. The flanges must be tightened gradually and with uniformity, which is why they are tightened in a star pattern using a dynamometric key.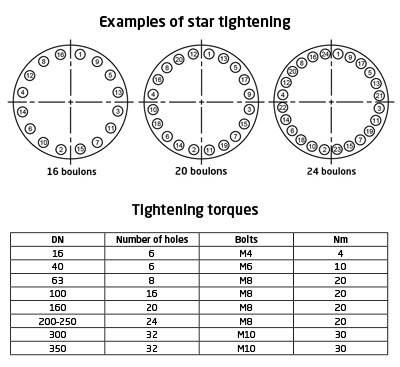 Show more
Show less